ASCO Numatics is the world leader in the production of high-quality equipment, instrumentation-valves, electromagnetic valves, hydropneumatic valves, shut-off valves, pneumatic actuators, pneumatic cylinders and other pneumatic automation products. ASCO Numatics has the highest reputation in terms of quality, reliability and technical level of its products.
History of creation and development
1888 – ASCO based in Baltimore. Production equipment for elevators.
1910 – ASCO was the first in the world to produce a line of solenoid valves.
1928 – Formation of the company JOUVENEL et CORDIER. Production of solenoids and coils.
1957 – ASCO sales = $ 10 million per year. Red-Hat valve starting line.
1960 – CONTROLASCO B.V. is founded in the Netherlands.
1961 – The first step in the production of pneumatic components (disc valves).
1985 – ASCO becomes part of EMERSON ELECTRIC CO., St Louis, USA.
1988 – JOUCOMATIC acquired by EMERSON ELECTRIC CO. St Louis, USA.
1989 – Production of the first proportional valve Sentronic.
1997 – ITO company becomes the official distributor of ASCO JOUCOMATIC.
2005 – ITO company authorized distributor ASCO JOUCOMATIC in Ukraine.
2006 – NUMATICS acquired by EMERSON ELECTRIC CO. St Louis, USA.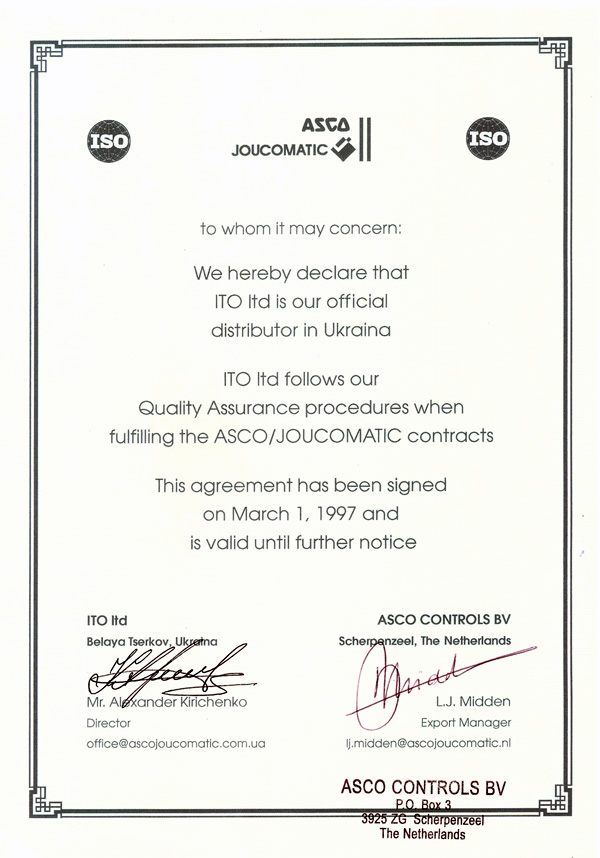 Experience you can rely on
With more than a century of experience, ASCO NUMATICS directs all its efforts to the development and production of equipment for the management of liquids and gases and pneumatic components. ASCO NUMATICS also designs and manufactures a wide range of special products that meet the requirements of individual customers.
Reliable service
ASCO NUMATICS has the widest network of sales offices and distributors worldwide, with a total number of more than 1000. The presence of flexible production centers and warehouses ensures convenient and efficient delivery of equipment.
Quality guaranteed
ASCO NUMATICS equipment complies with European engineering safety, electromagnetic compatibility and low-voltage equipment standards. The equipment is produced in more than 20 factories around the world, the highest quality of products of which is ensured by the use of CAD, automated production and testing, computer planning and logistics. ASCO NUMATICS laboratories are equipped with test facilities and environmental test chambers, which can be used to carry out all the tests required in the design and manufacture of solenoid valves and pneumatic equipment. ASCO NUMATICS has various certificates, including ISO 9001 certificates confirming the highest quality products.
Products for all industries
ASCO NUMATICS develops and manufactures the widest range of equipment for controlling liquids, gases, pneumatic equipment for all industries. Among them: food production, chemistry and petrochemistry, automobile industry, packaging and handling, medical industry, etc.